YOUR SELF-CARE RESOLUTION
Full-Body Exfoliation with The Body Plane Set
For a limited time only, save $10 on the Body Plane Set when you use the code "PLANE10".
USE CODE "PLANE10" AT CHECKOUT
Meet Our Best-Selling Ritual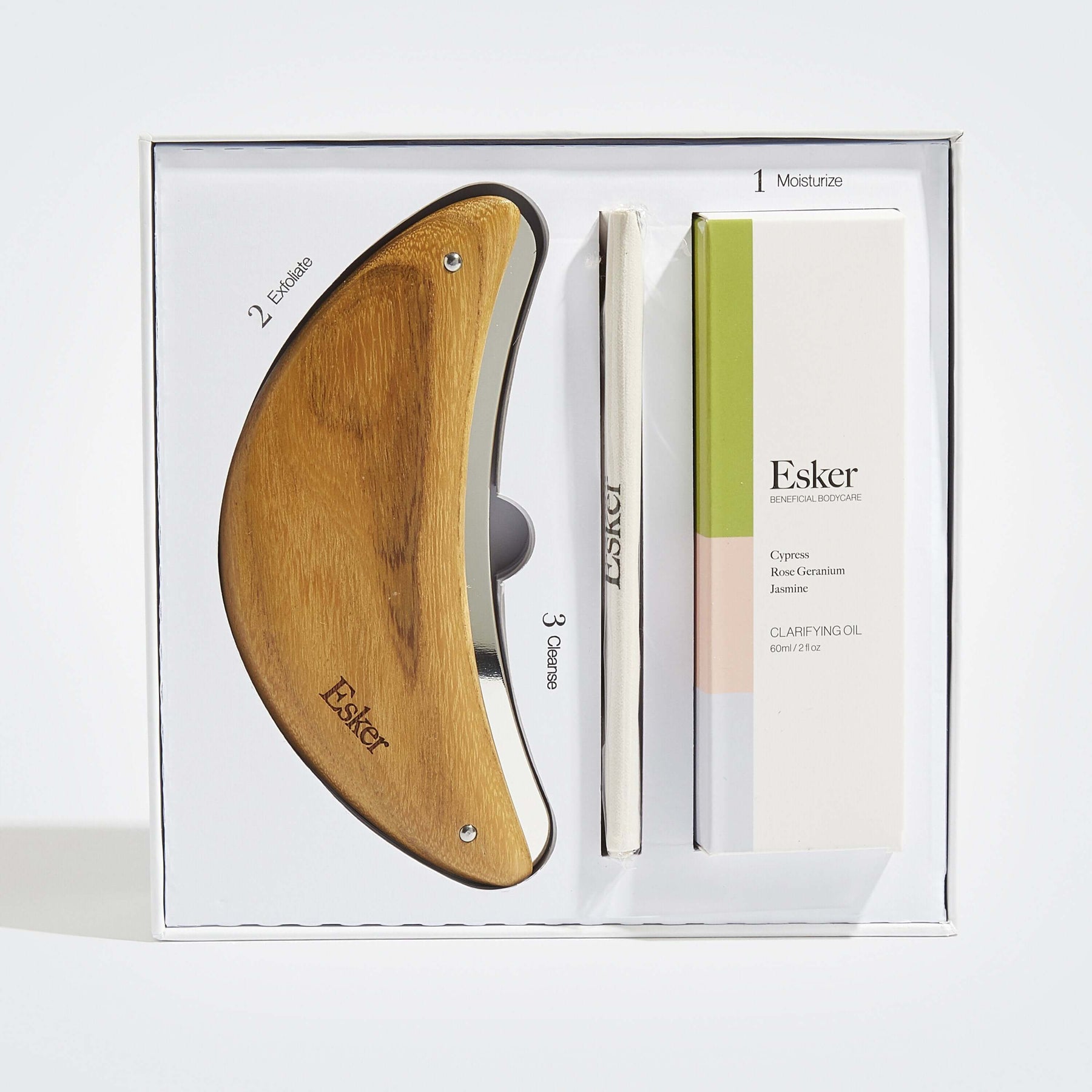 Your full-body exfoliation ritual is at the ready with our Body Plane Set. Housed in a plastic-free box, we've created the perfect set including: our in-house designed exfoliating tool, The Body Plane, a 2 ounce Esker Oil of your choice, and a washable and reusable cloth to wipe dry skin, dirt and impurities from the blunt, colloidal silver blade.
Real Customer Testimonials
Nadya O.
"Exactly what was missing in my bath rituals. I use it after my bath or shower when I apply body oil. It removes extra oil and makes my skin so supple and healthy. Just a beautiful tool to have for self-love rituals at home."
★★★★★
Vicky A.
"The amount of dead skin removed on the first use was a revelation! Now it is my Sunday night ritual. No more scaly legs here! The plane itself is also a thing of beauty and proudly on display in the bathroom."
★★★★★
Elena K.
"I've been using it once a week so far and it really helps keep my skin moisturized, soft and ready for shaving (with less irritation when I do). Plus it's ridiculously luxurious!"
★★★★★
BODYCARE 101
The Exfoliating Ritual
Meet Esker's best-selling, signature bodycare tool. Inspired by ancients, the Body Plane is our take on the Greco-Roman strigil. It's gentle exfoliation for your entire body.

Click here to learn more about our Exfoliating Ritual for your softest skin ever.