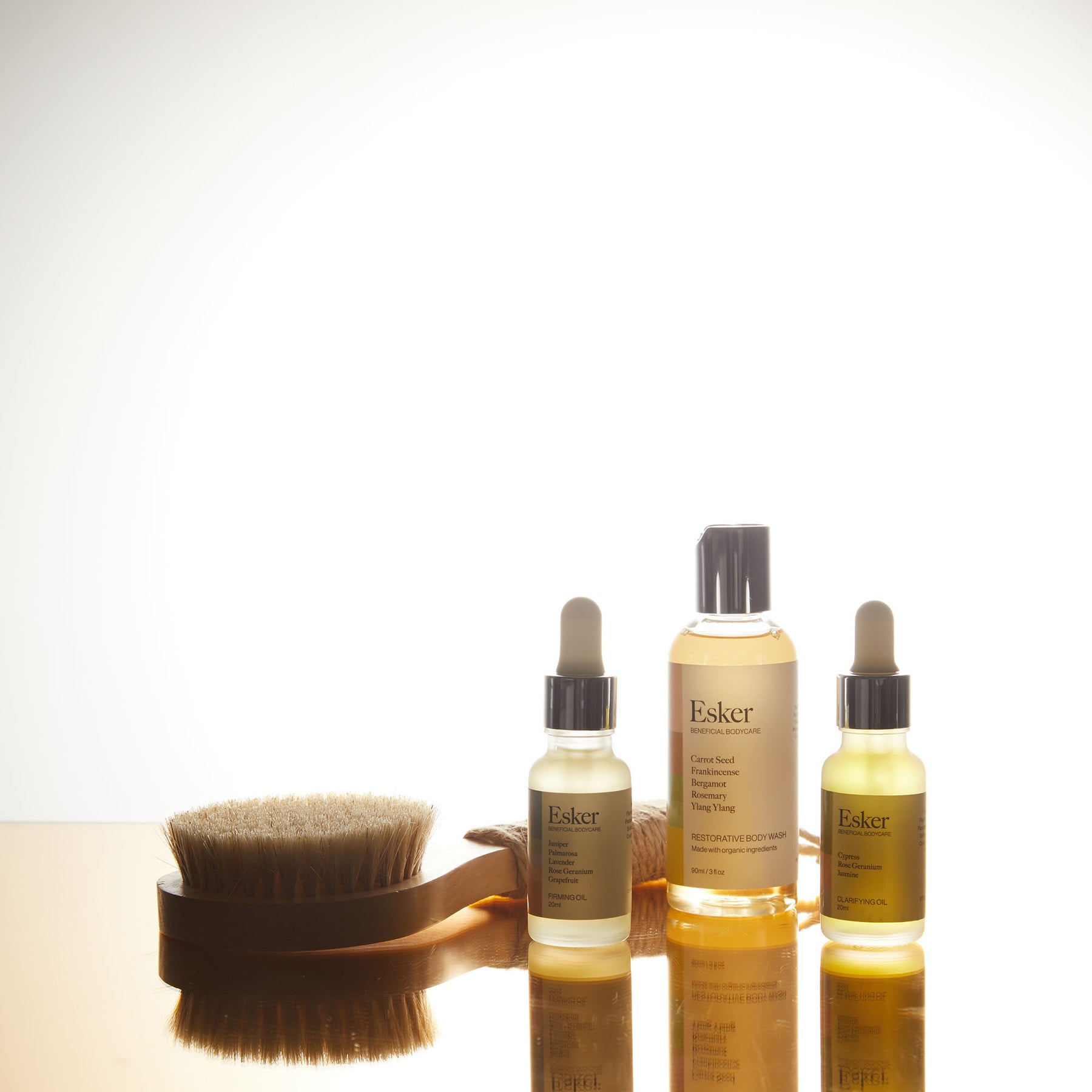 Bodycare Discovery Set
This bestsellers Bodycare Discovery Set has three key steps to nourish and care for the skin below your chin. With a full-sized Dry Brush and 2 Body Oils and 1 Body Wash in mini sizes, you can take three easy steps to smooth glowing skin and create a self-care spa day wherever you go.
Set Contains:
1 Dry Brush
1 Deluxe Mini Clarifying Oil (20ml)

1 Deluxe Mini Firming Oil (20ml)
1 Mini Restorative Bodywash (90ml)
Product Info
Firming Oil: These hand selected plant based oils work together to reduce water retention, soften dry skin, firm and tighten the skin, and balance the energy while boosting the mood.

Clarifying Oil: A luxurious, comforting clarifying treatment for the body. We set out to make an antioxidant packed oil that comforts inflamed skin with plant based nourishment.
Restorative Body Wash: Designed with powerful plant-based antioxidants to firm the skin, soothe irritated skin, promote circulation, and give a bright and hydrated look and feel to the skin.
Dry Brush: Our Dry Brush is composed of grass tree wood, all natural bristles, and finely wound hemp twine around the handle. The ancient practice of dry brushing improves circulation from head to toe and exfoliates the top layer of skin for a brighter, firmer surface all over.
Restorative Body Wash
Wild Carrot Seed: Packed with antioxidants and skin loving vitamins A & E, this oil reveals a healthier, younger looking skin.
Frankincense: This warm, aromatic oil helps reduce stress and tension and boost mood. 
Bergamot: A bright and fresh citrus, this balances skin while promoting peaceful relaxation
Rosemary: Soothes dry skin and improves circulation. 
Madagascar Ylang Ylang: Soothes irritation and promote smoothness, refining the appearance of wrinkles.

Firming Oil
Juniper:Tones, reduces water retention, and promotes regeneration
Palmarosa:Softens dehydrated and dry skin, smoothes uneven skin texture
Lavender:Soothes the mind, promotes calm and balance
Rose Geranium:Packed with antioxidants, helps the skin to heal itself
Grapefruit:Gives the skin a more smooth appearance, eases puffiness, boosts mood and energy

Clarifying Oil
Cypress: Improves skin tone and texture, powerful anti-inflammatory properties
Rose Geranium: Helps reduce fluid retention, hydrates and evens skin tone
Lavender: Soothing anti-inflammatory to aid irritated skin
Avocado Fruit Oil: Packed with vitamins, amino acids and fatty acids to nourish the skin
The Bodycare Discovery Set comes in a plastic-free, recyclable box - perfect for gifting.
Restorative Body Wash
Organic Aloe Leaf Juice*, Cocamidopropyl Betaine, Sodium Lauryl Sulfoacetate, Disodium Laureth Sulfosuccinate, Glycerin, Organic Lavender Water*, Roman Chamomile Water, Organic Jojoba Oil, Rosehip Seed Oil, Organic Juniper Berry Essential Oil*, Organic Grapefruit Essential Oil*, Organic Palmarosa Essential Oil*, Organic Rose Geranium Essential Oil*, Organic Lavender Essential Oil*, Hydrolyzed Wheat Protein, Provitamin B5, Vitamin E, Sunflower Seed Oil, Tetrasodium Glutamate Diacetate, Phenoxyethanol  

*Organic ingredients

Firming Oil
Fractionated Coconut Oil (Caprylic/Capric Triglyceride), Squalane, Vitamin E (Tocopherol), Sunflower Seed Oil (Helianthus Annuus), Organic Macadamia Nut Seed Oil (Macadamia Ternifolia), Organic Juniper Berry Oil (Juniperus Communis), Organic Jojoba Seed Oil (Simmondsia Chinensis), Organic Rosehip Seed Oil (Rosa Canina), Organic Baobab Seed Oil (Adansonia Digitata), Organic Avocado Fruit Oil (Persea Gratissima), Organic Evening Primrose Oil (Oenothera Biennis), Organic Grapefruit Peel Oil (Citrus Paradisi), Organic Palmarosa Oil (Cymbopogon Martini), Organic Rose Geranium Oil (Pelargonium X Asperum), Organic Lavender Flower Oil (Lavandula Angustifolia)
*Organic ingredients

Clarifying Oil
Fractionated Coconut Oil (Caprylic/Capric Triglyceride), Squalane, Organic Avocado Fruit Oil* (Persea Gratissima), Organic Evening Primrose Oil* (Oenothera Biennis), Organic Jojoba Seed Oil* (Simmondsia Chinensis), Organic Carrot Root CO Extract* (Daucus Carota Sativa), Organic Rosemary Leaf Extract* (Rosmarinus O cinalis), Organic Ylang Ylang Flower Oil (Cananga Odorata), Organic Frankincense Gum Oil* (Boswellia Carterii), Organic Bergamot Peel Oil* (Citrus Bergamia)
*Organic Ingredients
The Ritual
Step One: Exfoliate with the Dry Brush
The Dry Brush is the first step in your bathing ritual, use it before you step into the shower or tub. Starting at the feet, use short, quick strokes moving upwards towards the heart. Take a moment to notice the how the brush moves the energy throughout your body. Continue to brush the entire body this way, using medium pressure on arms and legs, and more gentle pressure on the torso, thighs, and neck.

Step Two: Cleanse with the Body Wash
Start with just one pump on a puff, sponge, loofah, or in your hands and apply to wet skin. Massage into skin using small circular motions until it begins to lather. Rinse the skin, repeat as desired.

Step Three: Nourish with the Body Oil
Starting at the feet, use your hands to massage the oil into the skin. Work your way up the body moving the energy towards the heart.

Finish with a deep breath of appreciation for the moment you took to nourish your skin, another deep breath in appreciation of your body, and a third deep breath in appreciation for the beautiful being you are.
Take your ritual to the next level with The Body Plane, our patent pending deep exfoliation tool.
FIND YOUR RITUAL
Take Our Rituals Quiz
Taking time to take care is our ethos. Whether you have 15 minutes or hours on end, find your perfect self-care ritual that you can do right in your own home.