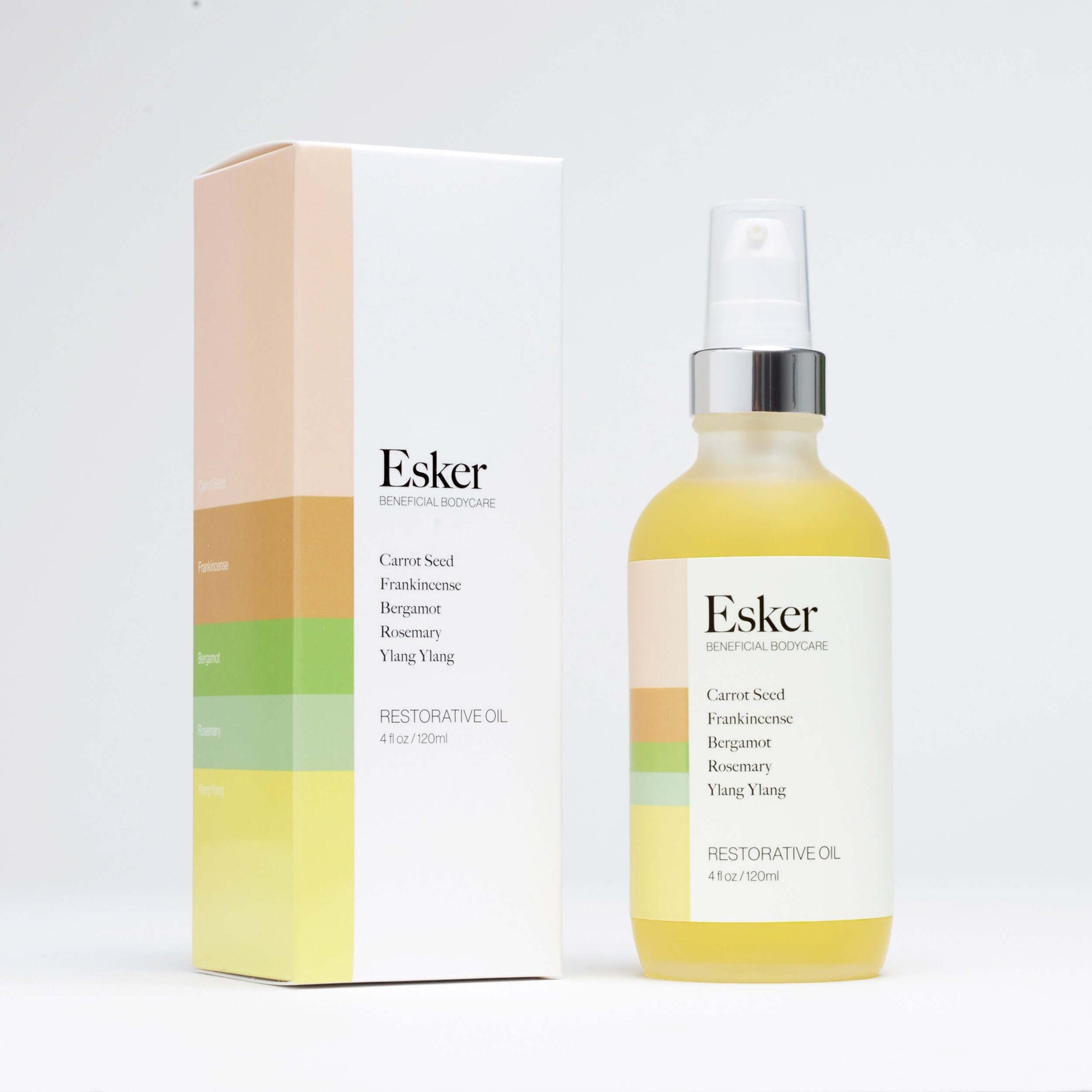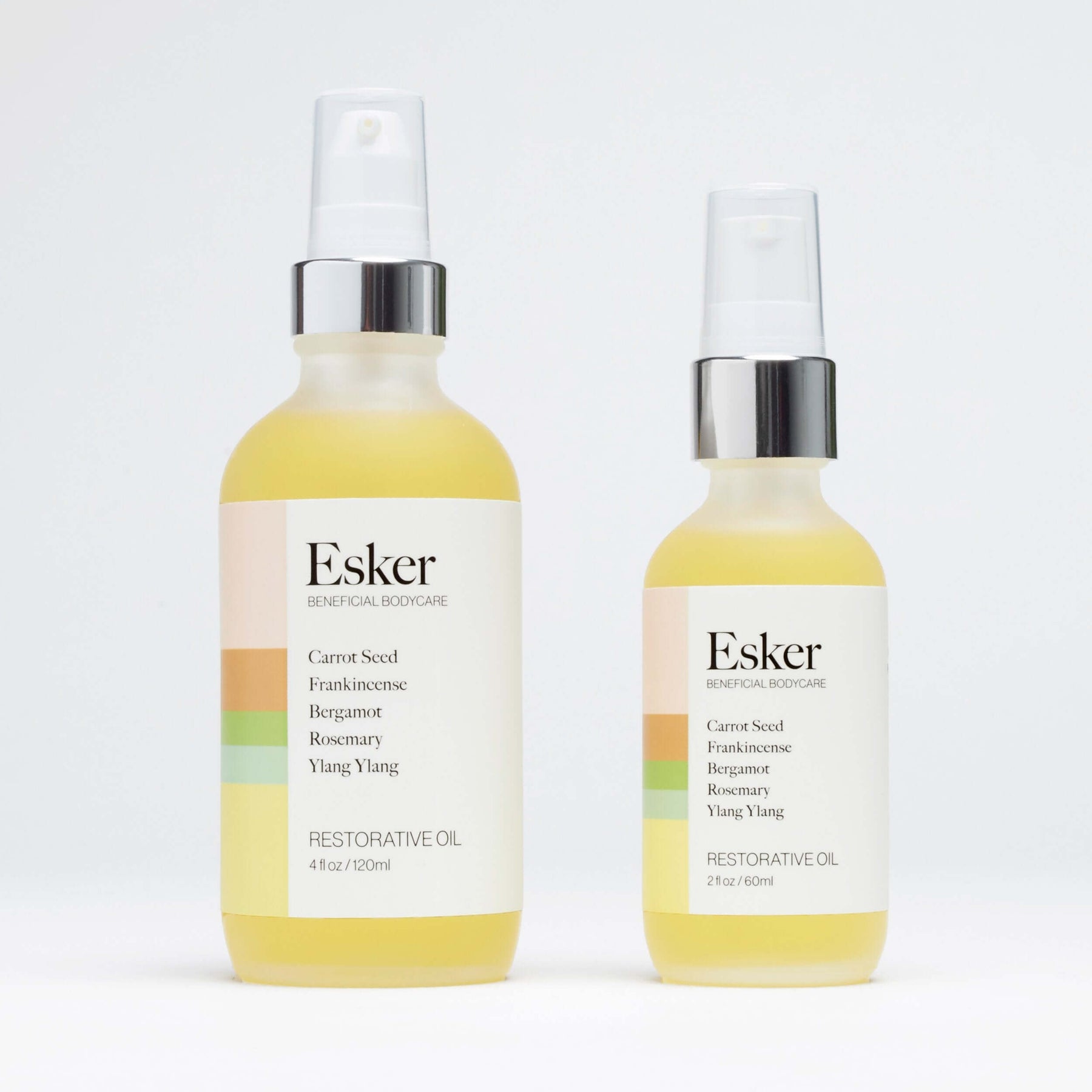 Restorative Oil
The Restorative Oil was designed to soothe and nourish dry skin, improve circulation, and provide deep hydration while easing tension and boosting the mood. Restorative Oil is our award winning product starring Wild Carrot Seed Oil, which delivers vitamins C and E, and is super-powered through CO2 extraction to deliver potent antioxidants to the skin. Restorative Oil is non-greasy and fast absorbing. 

Product Info
Wild Carrot Seed: Packed with antioxidants and skin loving vitamins A & E, this oil reveals a healthier, younger looking skin.
Frankincense: This warm, aromatic oil helps reduce stress and tension and boost mood. 
Bergamot: A bright and fresh citrus, this balances skin while promoting peaceful relaxation
Rosemary: Soothes dry skin and improves circulation. 
Madagascar Ylang Ylang: Soothes irritation and promote smoothness, refining the appearance of wrinkles.
Balsam, woody and herbal with hints of smoke and florals
Restorative Oil comes in a 2 oz or 4 oz recyclable glass bottle, and every Esker Oil includes a pack of plantable pollinator-friendly wildflower seeds.
Fractionated Coconut Oil (Caprylic/Capric Triglyceride), Squalane, Organic Avocado Fruit Oil* (Persea Gratissima), Organic Evening Primrose Oil* (Oenothera Biennis), Organic Jojoba Seed Oil* (Simmondsia Chinensis), Organic Carrot Root CO2 Extract* (Daucus Carota Sativa), Organic Rosemary Leaf Extract* (Rosmarinus O cinalis), Organic Ylang Ylang Flower Oil* (Cananga Odorata), Organic Frankincense Gum Oil* (Boswellia Carterii), Organic Bergamot Peel Oil* (Citrus Bergamia)

*Organic Ingredients
The Ritual
Restorative Oil works on wet or dry skin but gives the best result when the skin is warm and damp from bathing.

Starting at the feet, use your hands to massage the oil into the skin. Work your way up the body moving the energy towards the heart.

Finish with a deep breath of appreciation for the moment you took to nourish your skin, another deep breath in appreciation of your body, and a third deep breath in appreciation for the beautiful being you are.
Daily Restorative Oil Ritual:
1 Pump per body part will give the ultimate daily hydration and restorative experience

Weekly Ritual:
2-4 Pumps per body part is suggested for an deeper ritual of restoration once per week
Take your Restorative Oil Ritual a step further with our patent pending exfoliation tool, the The Body Plane, our patent pending deep exfoliation tool.
FIND YOUR RITUAL
Take Our Rituals Quiz
Taking time to take care is our ethos. Whether you have 15 minutes or hours on end, find your perfect self-care ritual that you can do right in your own home.