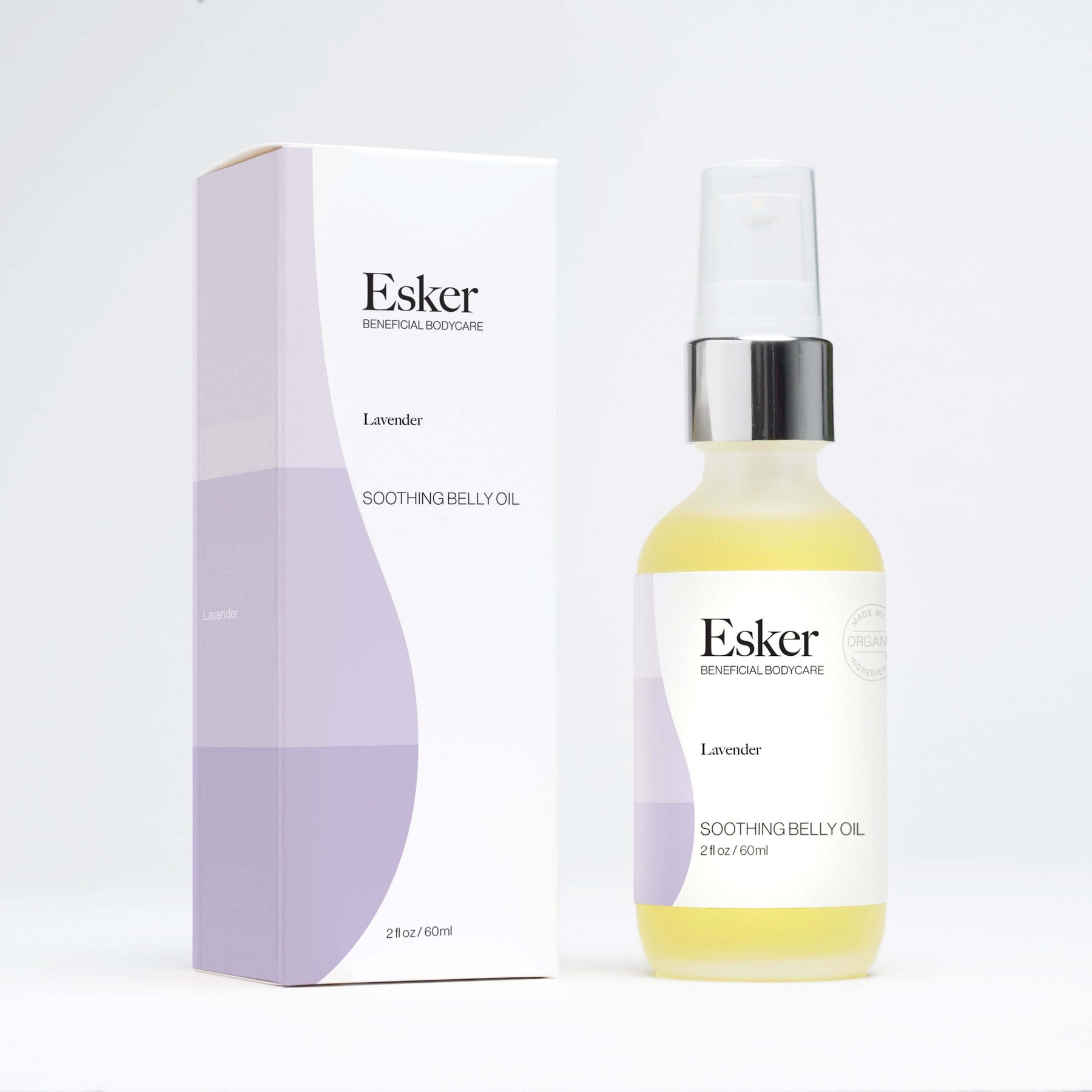 Soothing Belly Oil
Soothing Belly Oil is a clean, nontoxic blend of carefully formulated organic botanical oils created specifically for pre and postpartum skin. Created by our Founder when she was pregnant, this gently lavender scented, non-greasy oil deeply moisturizes the skin, fades stretch marks and prevents new ones from forming. While all of our body oils are safe for use during pregnancy, this targeted certified-organic formula is optimized for mamas to be with low-scent and rich moisture.

Product Info
Bulgarian Lavender: Gently soothes inflammation or tightness, balances the skin's natural sebum production
Sea Buckthorn Berry: Rich in Vitamin E, promotes skin hydration, elasticity, and cell regeneration
Grapeseed: Lightweight, moisturizing and fast absorbing, helps to fight free-radical damage, stretchmarks and scarring 
Jojoba: Deeply moisturizing and naturally packed with Vitamin A
Soothing Belly Oil comes in a 2 ounce or 4 ounce recyclable glass bottle, and each box includes a pack of pollinator-friendly wildflower seeds.
*Organic Jojoba (Simmondsia chinensis) Oil, Jojoba (Simmondsia chinensis) Oil, Grapeseed (Vitis vinifera) Oil, *Organic Grapeseed (Vitis vinifera) Oil, *Organic Seabuckthorn (Hippophae rhamnoides) Berry Extract, Bulgarian Lavender (Lavandula angustifolia) Essential Oil, *Organic Lavender (Lavandula angustifolia) Essential Oil

*Organic Ingredients
The Ritual
Pump into hands and massage on dry skin or after a shower or bath. Use liberally on belly, hips, thighs and breasts. Best used in the morning or whenever your skin is in need of an energizing boost. Take this time to breathe, and marvel at the miracle your body is creating.
Daily Soothing Belly Oil Ritual:
1-2 Pumps per body part massaged into the skin following a relaxing shower or bath

Weekly Soothing Belly Oil Ritual:
3-4 Pumps per body part to deeply nourish and appreciate the skin you're in.
A NOTE FROM THE FOUNDER
Made for pregnant women, by a pregnantwoman.
"I was pregnant with my first daughter when I launched Esker. During that time, I learned first-hand how difficult it is for pregnant women to find products that are safe for both them and baby; and I planted the seed to make a bodycare product specifically for them. Our Uplifting and Soothing Belly Oils are those products - organic ingredients, two formulas for morning and night, high moisture and lightly scented."
FIND YOUR RITUAL
Take Our Rituals Quiz
Taking time to take care is our ethos. Whether you have 15 minutes or hours on end, find your perfect self-care ritual that you can do right in your own home.