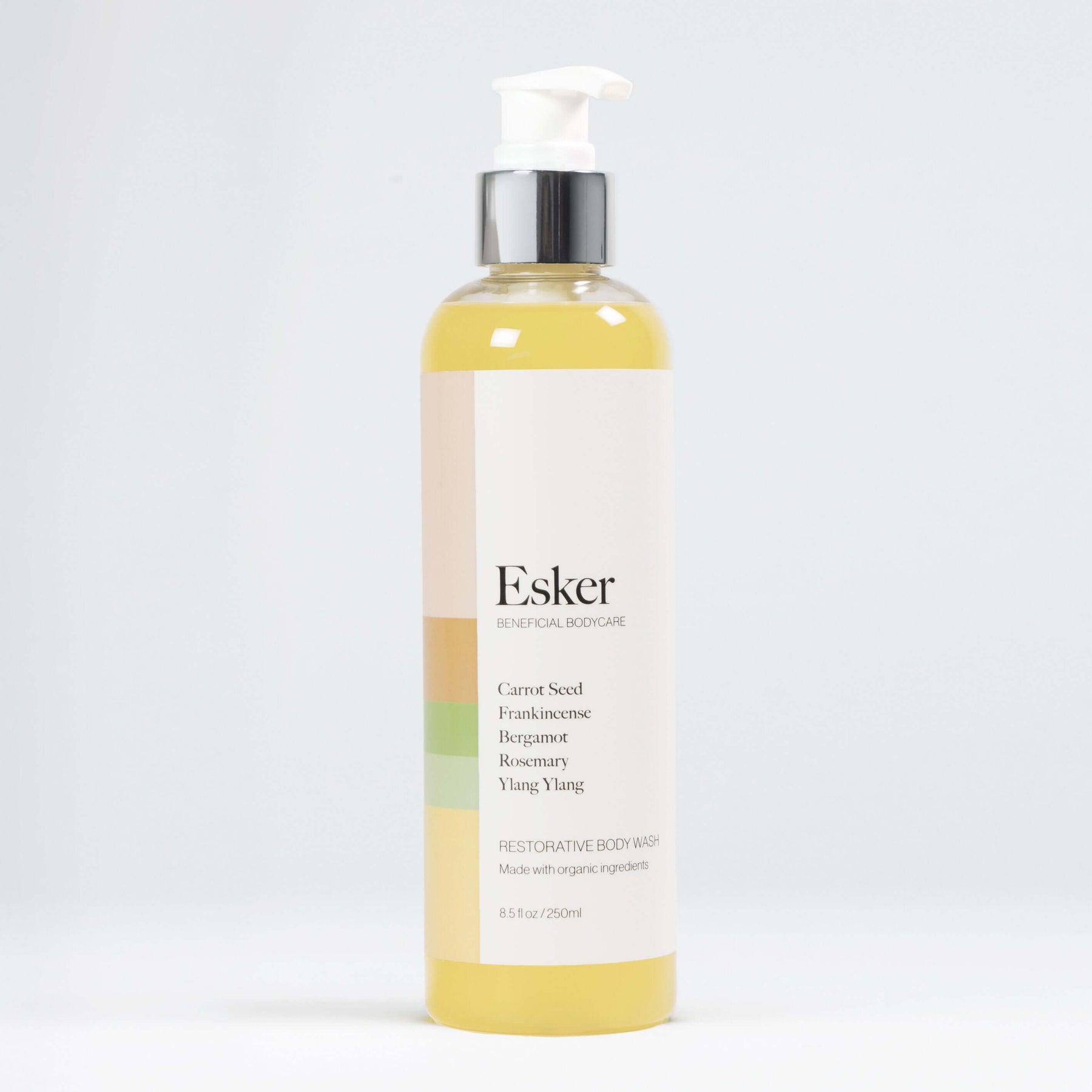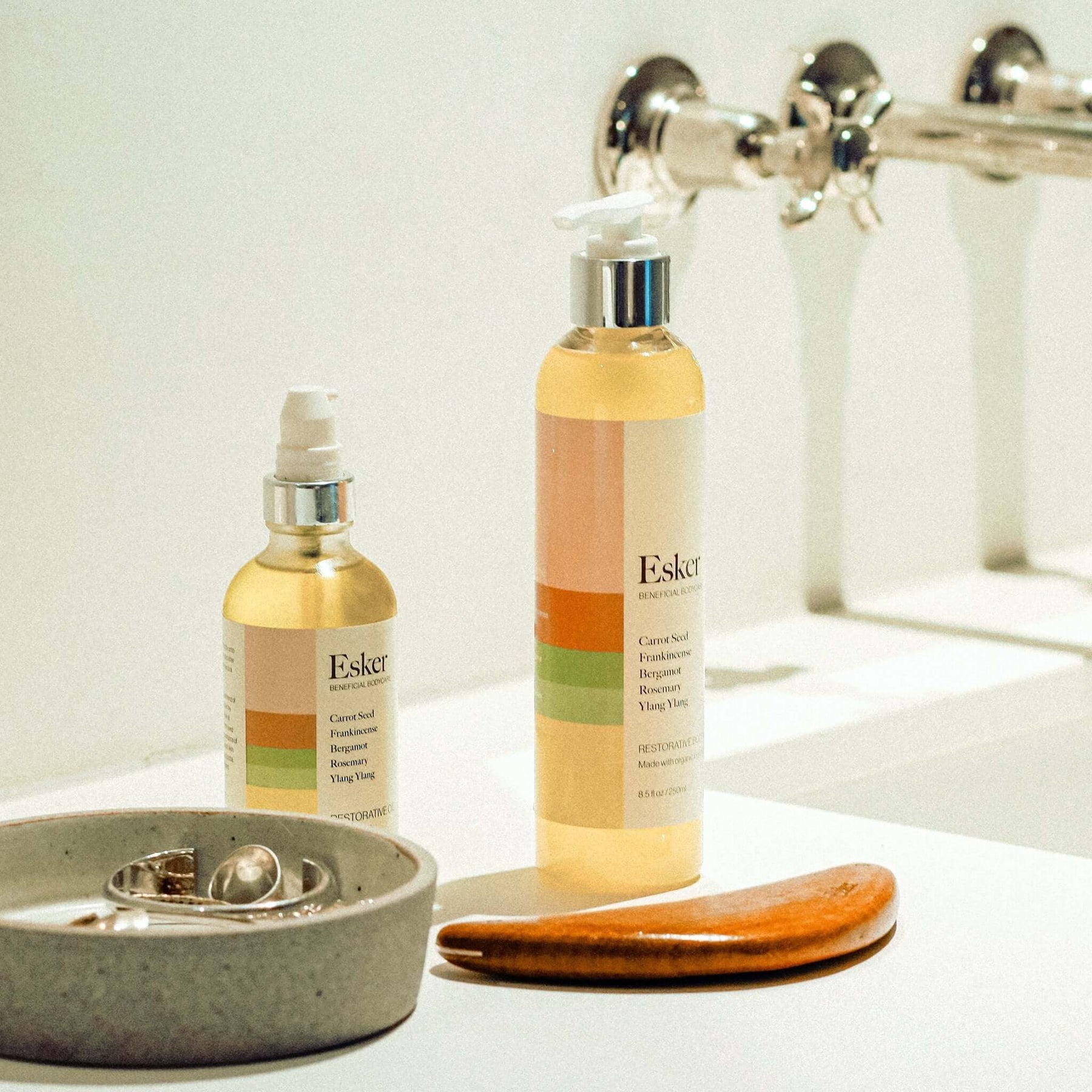 Restorative Body Wash
Our Restorative Body Wash was designed with powerful plant-based antioxidants to firm the skin, soothe irritated skin, promote circulation, and give a bright and hydrated look and feel to the skin. The gentle foam feels silky on the skin and the essential oils infuse your skin with a gentle and invigorating scent.
All Esker Body Washes come in post-consumer recycled PET bottles and are almost universally curbside recyclable.
Product Info
Wild Carrot Seed: Packed with antioxidants and skin loving vitamins A & E, this oil reveals a healthier, younger looking skin.
Frankincense: This warm, aromatic oil helps reduce stress and tension and boost mood. 
Bergamot: A bright and fresh citrus, this balances skin while promoting peaceful relaxation
Rosemary: Soothes dry skin and improves circulation. 
Madagascar Ylang Ylang: Soothes irritation and promote smoothness, refining the appearance of wrinkles.
Balsam, woody and herbal with hints of smoke and florals
All Esker Body Washes come in 8.5oz post-consumer recycled PET bottles and are almost universally curbside recyclable.
Organic Aloe Leaf Juice*, Cocamidopropyl Betaine, Sodium Lauryl Sulfoacetate, Disodium Laureth Sulfosuccinate, Glycerin, Organic Lavender Water*, Roman Chamomile Water, Organic Jojoba Oil*, Rosehip Seed Oil, Organic Carrot Root CO2 Extract*, Organic Ylang Ylang Essential Oil*, Organic Frankincense Essential Oil*, Organic Bergamot Essential Oil*, Hydrolyzed Wheat Protein, Provitamin B5, Vitamin E, Sunflower Seed Oil, Tetrasodium Glutamate Diacetate, Phenoxyethanol
*Organic Ingredients
The Ritual
Start with just one pump on a puff, sponge, loofah, or in your hands and apply to wet skin. Massage into skin using small circular motions until it begins to lather. Allow the wash to linger a few moments while you inhale deeply, allowing the grapefruit oil to energize your mind and the sweet rose scent of Palmarosa oil to bring your mind to a bright and sunny place. Rinse the skin, repeat as desired.
1 Pump of Restorative Body Wash will provide a thorough cleansing of the skin but feel free to indulge in as much as you like
Reach for your Dry Brush before you bathe to gently exfoliate and energize the skin. Extend your Restorative Ritual with Restorative Oil to deeply hydrate and nourish the skin.
HYPEBAE
"Expect to leave the shower with refreshed and hydrated skin." 
FIND YOUR RITUAL
Take Our Rituals Quiz
Taking time to take care is our ethos. Whether you have 15 minutes or hours on end, find your perfect self-care ritual that you can do right in your own home.